Holyrood hate crime proposals are "completely out-of-step" with existing UK legislation on the 'stirring up of hatred' and Scottish Government officials are wrong to claim otherwise, campaigners say.
On Sunday, Ministers sought to defend controversial plans to widen laws on the 'stirring up of hatred' after a new poll found strong opposition amongst the Scottish public.
Attempting to justify its proposals, the Scottish Government pointed to laws already on the statute book in England, Wales and Northern Ireland. A government spokesman said:
"England, Wales and Northern Ireland all have laws in place criminalising stirring up hatred in relation to religion and sexual orientation while Northern Ireland's law also covers disabilities.
"The law should protect vulnerable groups and minorities, and this Bill – which follows an independent, judge-led review and is backed by a number of organisations – will increase confidence in policing to those communities affected by hate crime."
However, the Free to Disagree campaign, which is spearheading opposition to the plans, said drawing parallels between other 'stirring up of hatred' laws and the Hate Crime and Public Order (Scotland) Bill is inaccurate. Spokesman Jamie Gillies said:
"The Scottish Government's hate crime proposals are completely out-of-step with laws in the rest of the UK.
"'Stirring up' offences in England and Wales have a much higher threshold than the Scottish Government's plans. Crucially, they require proof of 'intent' for an offence to be committed, and are limited to 'threatening' words or behaviour. Whereas the Holyrood proposals do not require intent, and have a lower threshold, criminalising words that are only regarded as 'abusive'.
"The English religious hatred law also includes a strong, wide-ranging free speech clause, and words spoken in the privacy of the home cannot be prosecuted. By contrast, the Holyrood proposals apply to conversations in private dwellings and the free speech clause is a watered down version of the English one.
"These vital differences are the very aspects of the bill that make it so unpopular in Scotland, so the attempt to equate it with the English law is fatuous.
"What's more, the SNP themselves were instrumental in re-writing the English religious hatred law into this form. Tony Blair's Government proposed a more far-reaching and controversial version of the offence but they lost a crunch vote in the Commons. In January 2006 SNP MPs voted with the majority to raise the thresholds and insert a strong free speech clause.
"If the SNP was to take the same approach in Holyrood as they did in Westminster, there would be much less controversy."
Mr Gillies added: "Stirring up laws in Northern Ireland have been criticised for being too vague. Nonetheless, they still require mens rea for an offence to be committed and do not extend to the home – which is more protection than the Hate Crime Bill currently offers."
Comparison of hate crime laws
Free to Disagree has produced a comparison between key aspects of the Hate Crime Bill and English, Welsh and NI 'stirring up' laws.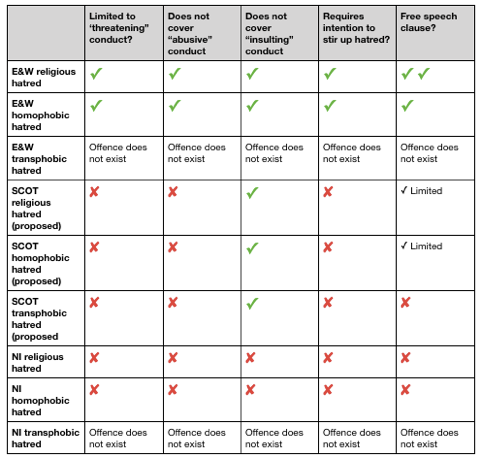 Other recent news
Free to Disagree poll
A poll commissioned by Free to Disagree and published on Sunday (Aug 23) revealed wide support for free speech and opposition to the hate crime plans.
Letter to Justice Secretary
Free to Disagree has written to Justice Secretary Humza Yousaf, urging him to scrap the controversial elements of the Hate Crime Bill.
A letter, expressing "grave reservations" over the 'stirring up' provisions and signed by campaign members including former SNP Depute Leader Jim Sillars was sent on Friday last week.
ENDS
For media enquiries contact Jamie Gillies:
Mobile: 07761 506 732
Email: admin@freetodisagree.scot